PSB's travel and events program is designed for travelers age 50 and older. Throughout the year, customers and friends of the bank are offered activities that include informational meetings, concerts, day bus trips, overnight tours and extended trips. The goal of Ventures is to provide a wide variety of exciting and enriching experiences in all price ranges.
Upcoming Trips
"The Kids Left, The Dog Died, Now What?" Dubuque Matinee | Sunday, August 20
Let's start this VERY entertaining outing with a winding scenic drive along the ridges of the driftless geologic region of northeast Iowa as we make our way to lunch at our favorite Balltown restaurant, which is on the Great River Road National Scenic Byway and a short walk to a scenic overlook. (That means, of course, the fantastic lunch buffet at Breitbach's Country Dining.) We'll head then to this play that is a comedic salute to those of us who may be struggling with the effects of gravity on our bodies, of grandchildren on their self-images and of the dating scene on their egos. It's a laugh-out-loud musical that follows the day-to-day concerns of over-50 empty nesters, where the ultimate goal is aging gracefully. The delicious buffet lunch all made from scratch, our luxury motor coach, fun musical comedy, taxes and tips are all YOURS for $135 per person if you have an account with Peoples Savings Bank, or please add a $5 convenience fee if you do not.
Lake Superior in the Fall | September 12-14
Come with us as we explore the Gitche Gumee shining Big-Sea-Water, the largest freshwater lake in the world! See Duluth with its Aerial Lift Bridge, which raises for ships entering the harbor. Enjoy our waterfront lunch cruise and a North Shore Scenic Railway fall excursion, dinner at Grandma's Saloon with really good food and real antiques. En route we'll tour the Minnesota state capitol, the Cathedral of Saint Paul, enjoy a tribute to the Eagles at the excellent Chanhassen Dinner Theatre, tour the Gilded Age mansion of railroad titan James J. Hill on famous Summit Avenue, the longest stretch of Victorian-era homes in the United States. And more! Trip includes round-trip motorcoach, two nights lodging, two dinners, three lunches, two breakfasts, meal gratuities, luggage handling of one bag.
PSB customers' tour cost per person: Double: $950, Single: $1,180. Travelers who are not PSB customers are welcome with a $50 supplement surcharge. $200 deposit is due at time of registration, with final payment due by August 1.
"NOISES OFF!" MATINEE, WATERLOO COMMUNITY THEATER | SATURDAY, OCTOBER 14.
Join us for one of the funniest plays we've ever seen! Noises Off! is a play within a play, with a hilarious parade of madcap backstage mishaps. For the uninitiated, "Noises Off" is a stage cue for no distracting sounds during the production. The comedy begins with a woefully under-rehearsed dress rehearsal hours before the opening night curtain and then the dysfunctional accident-prone group of actors take the play on the road. Lines are dropped, pants fall off, doors jam, props get mixed up and actors collapse on both sides of the curtain, mixing up cues and resulting in a plate of sardines that appears repeatedly in all the wrong spots. We'll begin our venture with a scrumptious lunch together at an award-winning small town tea house hidden in a quiet residential town. We have a reservation at "the best restaurant in Butler County," named so by local publications. Have you correctly guessed that we will lunch at Peppercorn Pantry in Aplington? It's not only a lunch spot, but also a gift shop.
What a fun day is yours for only $135 per person if you have an account with Peoples Savings Bank, or please add a $5 convenience fee if you do not. We look forward to your enjoying all of it with us. Payment by October 6 is appreciated.
Christmas Extravaganza Down South | December 2-9
Past Events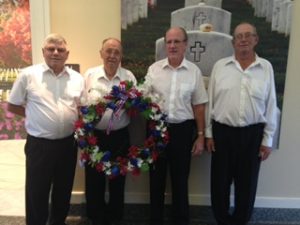 To be added to our newsletter mailing list, make a reservation, or obtain further information about these events, contact us at our Wellsburg Branch, (641) 869-3721.
Ventures coordinators are Phyllis Dorn and Carol Van Hove.
You can reach Phyllis at (319) 290-9135 or dorn.phyllis@gmail.com.
---